ShAMELESS PLUGS and other stuff
A few days before traveling to Indianapolis for the NFL scouting combine and two weeks out from the start of free agency, Rick Spielman walked into his sit-down with local beat reporters with an offseason plan.

No, the longtime Vikings general manager literally brought a plan.

It was printed in a single-digit font size on white, legal-size card stock with grades for every Vikings player, alongside their ranking of NFL draft prospects and lists of free agents and potential salary cap casualties from other teams. Spielman, wisely, kept that piece of paper at a distance.

"If you can read the names, I'll back up," he joked Thursday morning.

Before folding the paper in half and tucking it safely under a notebook, Spielman used that prop to explain that despite all the options available in free agency and the draft, improvement must start from within.

"You can look back at this season and there could be a million different'' excuses for what happened. ''But we get measured on wins and losses, and we were 8-8 and we have to really look at ourselves," he said before his cellphone went off, blaring the sound of a Vikings horn.

"To be honest with you," he said, "I wake up every morning ticked off that we're 8-8 because I know that is not acceptable by the standards that we place on ourselves. We have to do everything we can heading into this offseason to address the needs and areas we [can improve]."

Read the rest of the story at StarTribune.com

...

Believe it or not, Ryan Dungey, the Minnesota native who is one of the most accomplished pro dirtbike riders ever, is a little afraid of heights.

His day job requires him to soar 40 feet high while landing jumps spanning 120 feet. And top speeds on those bikes can hit 125 miles per hour. But Dungey has never been much of a daredevil away from the racetrack.

"People tell me, 'You're crazy,'" the 27-year-old said Thursday morning while sipping an 8-ounce cup of coffee at Peace Coffee inside the Capella Tower. "But I'm scared as heck to go on the Wild Thing at Valleyfair."

While traveling from coast to coast and sometimes overseas on the top dirtbike circuits, he keeps tabs on the Vikings. He quit youth football after a year because he wasn't a fan of tacklers diving at his knees and ankles.

He once was too intimidated to ask his future wife for her phone number, something that makes him chuckle when he shares their story again.

And Dungey would never have experienced his six total Supercross and Motocross titles, and all the fame and fortune and opportunities to give back that came with them, had the death of his grandmother not given him the shove he needed to stop being afraid and go tear after his dream.

On Saturday, Dungey will be back in the Twin Cities when the Monster Energy AMA Supercross tour makes the next stop in its 17-race series at U.S. Bank Stadium. Eying his third straight tour title, he is currently the points leader in the 450cc class, the higher of the sport's two tiers.

While he has been publicly mum on his future beyond this year, there is a decent chance this could be his last race in his hometown, which is why he was willing to take his time with that tiny cup of coffee, his guilty pleasure, and reflect for an hour on his improbable ride to the top.

Read the rest of the story at StarTribune.com

...
Powered by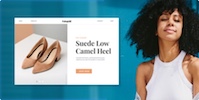 Create your own unique website with customizable templates.