ShAMELESS PLUGS and other stuff
After school let out some afternoons, a stranger driving past the Bradford house in Oklahoma, deep in the heart of football country, might have done a double take.

Crouched there in the garage was Martha Bradford, standing 5 feet 5, head to toe in goalie gear while young Sam Bradford whizzed street hockey pucks at her head.

With ice time in Oklahoma hard to come by, a packed sports schedule and a dream of lacing up the skates for the Vancouver Canucks, Sam had to improvise. So if none of his buddies were around, it was Mom who had to strap on the pads so Sam could work on a wicked wrist shot that made him a star on his youth traveling team.

"He'd be out in the garage firing pucks at her," Kent Bradford, Sam's father, said with a hearty laugh during a phone interview Wednesday. "It was hilarious."

The Bradford boy who was a standout in several sports before becoming an NFL quarterback will be in Charlotte, N.C., Sunday, making his second start for the Vikings vs. the Carolina Panthers. But if 10-year-old Sam Bradford had his way, he would be in Canada, taking the ice for another Canucks training camp.

Bradford fell in love with hockey at an early age thanks to the "Mighty Ducks" movies and Don Cherry's "Rock'em Sock'em Hockey" VHS tapes. He became enamored of Canucks winger Pavel Bure, though the lanky kid did not have the explosiveness of "the Russian Rocket," and he scanned the newspaper every morning for boxscores.

Kent, a former offensive lineman at Oklahoma, knew little about hockey. "I had no idea what icing and offsides were," he said. But the Bradfords said, "What the heck?" and let Sam give it a shot at age 5. For the next nine years, there were a lot of early-morning practices, long drives and $200 Easton Synergy hockey sticks.

"I really did love hockey," Bradford said. "It was one of my favorite things to do."

Read the rest of the story at StarTribune.com

...
Powered by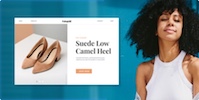 Create your own unique website with customizable templates.